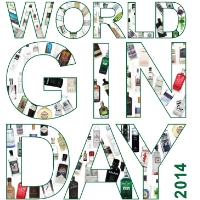 Gin lovers of the world rejoice as World Gin Day returns for its sixth year on Saturday 14 June 2014!!
World Gin Day is a celebration of all things gin, giving us a legitimate excuse (not that we need one) to mix up a cocktail and learn about all of the exceptional gins that are currently on the market.
As well as encouraging everyone to get into the juniper spirit, be it with tonic, in a Martini, Sling or Fizz, there will be a whole host of events going on, alongside parties and competitions.
Make sure you're following us on Facebook, Twitter (including the #WorldGinDay hashtag), and Instagram to keep up to date with the latest news and events!