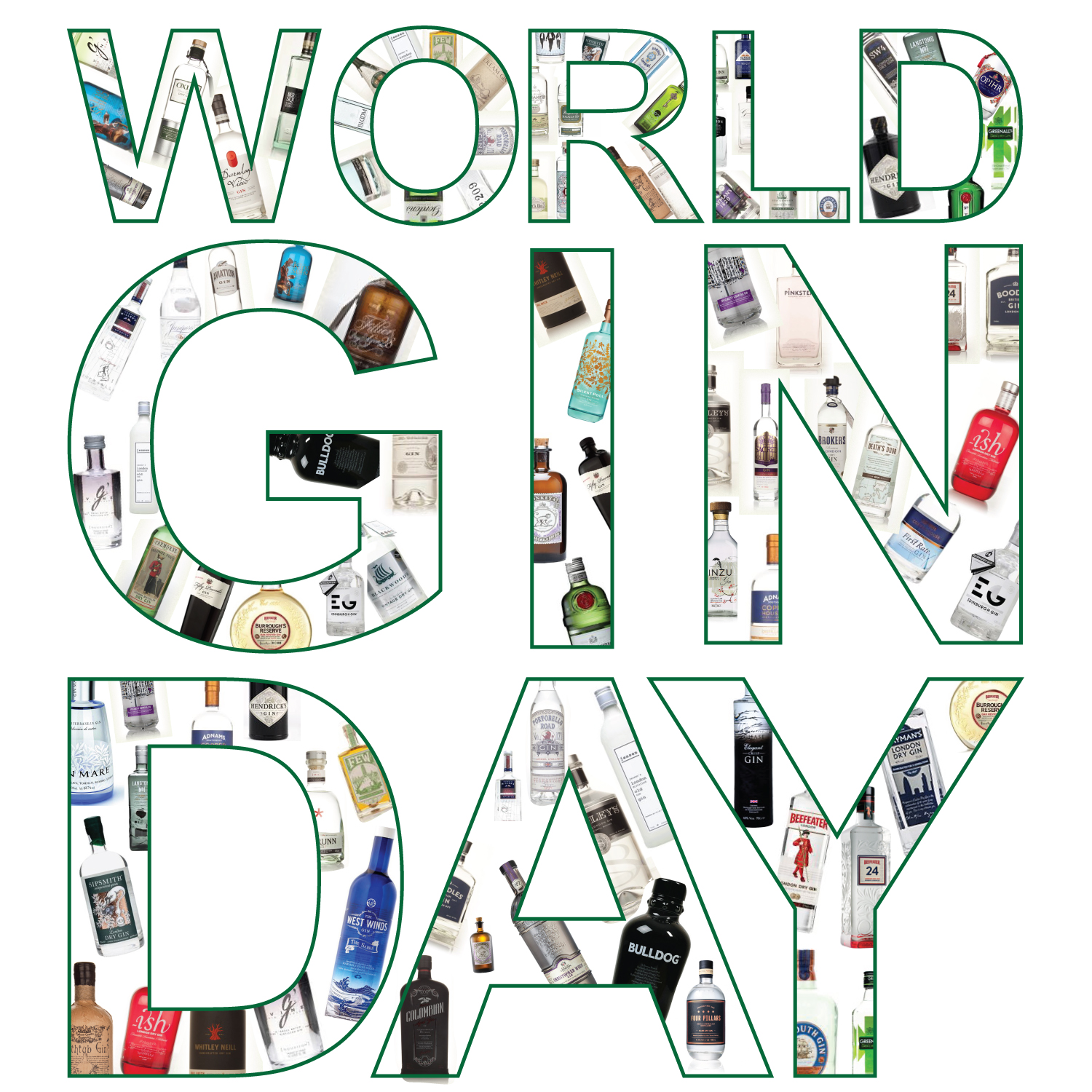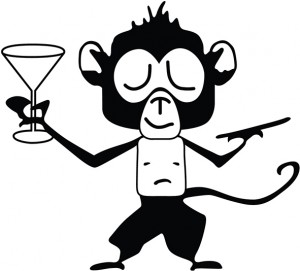 Gin lovers of the world rejoice as World Gin Day returns for its NINTH year on Saturday 10 June 2017!!
World Gin Day is a global celebration of all things gin, on the second Saturday in June organised by Gin Monkey! The idea is simple: get people together all around the world with a legitimate excuse (not that the Gin Monkey needs one!) to drink some gin, whether it's in a cocktail, G&T or neat (yes, you can drink gin neat, and when you're doing a gin tasting it's the easiest way to distinguish between different brands!).
How to get involved
If you're a gin lover make sure you're following us on Facebook, Twitter, and Instagram to keep up to date with the latest news and events! Use and follow the #WorldGinDay hashtag across social to join in the conversation too!
Celebrate in style by picking up a bottle of World Gin Day Gin made in collaboration with That Boutique-y Gin Company, launched June 2017!
If you're a bar, brand or other organisation that's planning on joining the #WorldGinDay buzz, then you can run competitions and list your events with us.
1 - 30
#Gin4June at The Captain Cook (London, UK)
1 - 30
International Flight at 214 Bermondsey (London, UK)
1 - 21
London's best gin bars with VEVA (London-wide)
1 - 30
World Gin Month at EDSA Shangri-La Manila (Manila, Philippines)
1 - 1
World Gin Month at MAZE Gin Parlour (Petaling Jaya, Malaysia)
1 - 30
Gin O'Clock (Muntinlupa City, Phillipines)
2 - 4
The Juniper Festival (Edinburgh, UK)
4 - 10
Ardnamurchan Scottish Gin Celebration (Glasgow, UK)
5 - 11
The Briar Rose Annual Gin Festival (Birmingham, UK)
6 - 17
Cahoots & Beefeater 24 Exclusive Cocktail (London, UK)
7
Australian Gin Tasting (London, UK)
8 - 10
World Gin Weekend at Molly's Yard (Belfast, Ireland)
8 - 10
World Gin Day Gin Bar (Whaley Bridge, UK)
8
Gin masterclass at the Star by Hackney Downs (London, UK)
8
Gin Tasting Night (Bangor, UK)
9 - 10
British Oak Gin Festival (Sheffield, UK)
9 - 10
GIN-STRAVAGANZA! (Ulverston, UK)
9 - 11
Gintoneria - The Gin & Tonic Festival (Bucharest, Romania)
9 - 12
St John's Wine Rooms celebrates World Gin Day (Bromsgrove, UK)
9 - 11
Pop-up Gin Garden at Polo in the Park (London, UK)
9 - 11
The Old Lion Gin Tasting (Harborough Magna, UK)
9 - 11
Pilgrim Gin and Beer Festival (Southampton, UK)
9 - 11
Botanical Masterclass (York, UK)
9 - 11
Last Drop Village's Gin & Fizz Festival (Bolton, UK)
9 - 10
HANSE SPIRIT GIN FESTIVAL (Hamburg, Germany)
9 - 10
The Glasgow Juniper Festival (Glasgow, UK)
9 - 10
Absolutely Fabulous Gin Festival (Liverpool, UK)
9
GIN & Tapas Social (Bucharest, Romania)
9
"Ginner" — a gin dinner (Milwaukee, USA)
9 - 10
Gin Festival Newcastle (Newcastle, UK)
9 - 11
Alston pub and dining Ginbouree and garden party (Preston, UK)
9
World Gin Day at Padi's Point (Cubao, Phillipines)
9
World Gin Day at HQ Bar (Tacloban, Philippines)
9
World Gin Day at Esquinita Bar (Bataan, Philippines)
9
World Gin Day at Lakay's Bar Manila (Manila, Philippines)
10 - 18
2 FOR 1 GINS at The Clog and Billycock (Blackburn, UK)
10
LAUNCH of Juniper Manor! Sipsmith Gin & Gingerline (London, UK)
10
World Gin Day at Edencroft (Nantwich, UK)
10
ALL ABOARD! Gin on a train with Liverpool Gin (Liverpool-Euston! UK)
10 - 30
Perfect Serve: DIY G&T at MASH (London, UK)
10
Fossey's Gin Presents - World Gin Day Soirée (Mildura, Australia)
10 - 11
Fête du Gin (Versailles, France)
10
Durbanville Distillery Gin Celebration (Durbanville, South Africa)
10
World Gin Day at Old School Wines (Tittensor, UK)
10
World Gin Day special at the General Store (London, UK)
10 - 11
Poltergeist Gin Road Side Stall (Tasmania, Australia)
10
World Gin Day at Smithies Deli (Arbroath, UK)
10
World Gin Day at Silent Pool Distillery (Guildford, UK)
10
ROSELEAF BAR CAFE (Edinburgh, UK)
10 - 11
Gin Cocktails Through the Ages (San Francisco, USA)
10
Still Fired Gin Distillation Workshop (Nova Scotia, Canada)
10
World Gin Day at Wildbrumby (Jindabyne, Australia)
10
Brentwood Brewery Beer & Gin Festival (Brentwood, UK)
10
World Gin Day at Four Pillars Distillery (Healsville, Australia)
10
Gin Lunch (Pretoria, South Africa)
10
Jensen's Gin and Pococello @ Bermondsey Distillery (London, UK)
10
Crown Spa Hotel Gin Day (Scarborough, UK)
10
World Gin Day at the President Hotel (Cape Town, South Africa)
10
World Gin Day at Ironworks (Lunenburg, Canada)
10 - 11
1st Bombay Cup (Sülfeld, Germany)
10
Glen Ewin Estate Gin Fest (Houghton, Australia)
10
Morphett Arms Garden Party (Adelaide, Australia)
10 - 11
Junipalooza (London, UK)
10 - 11
Celebrating World Gin Day with Music + Gin (Omagh, UK)
10
Gin & Sausage (Helsinki, Finland)
10
Local Gin Tasting (Brockenhurst, UK)
10
Launch of Southern Cross Gin (L'Agulhas, South Africa)
10
Artisanal Occitan Gin Masterclass & Italian Lunch (London, UK)
10
Gin A Palooza at the Barrelling Tide Distillery (Port Williams, Canada)
10
World Gin Day at Dutch Courage (Brisbane, Australia)
10 - 11
Pop-up gin garden at CHESTER RACES (Chester, UK)
10 - 11
World Gin Day Celebration (Leeds, UK)
10
Let the Gin BeGin (Melbourne, Australia)
10
World Gin Day at Purchases (Chichester, UK)
10 - 11
For The Love of Gin (Burbage, UK)
10 - 11
World Gin Day at Ganz Wien (Vienna, Austria)
10
World Gin Day at The West Hill Tavern (Brighton, UK)
10
A Very Royal High Tea (Manchester, UK)
10
A celebration of World Gin Day 2017 at The Alderton Swan (Woodbridge, UK)
10
Gin Ice Lollies at the St Martins Courtyard Summer Garden Party (London, UK)
10
World Gin Day Celebration at The Foresters (Bagshot, UK)
10 - 11
WORLD GIN DAY @ THE SAVOY JERSEY (Jersey, UK)
10
A Ginteresting Day (Pontefract, UK)
10
World Gin Day Bar at The Railway Tavern (Chelmsford, UK)
10 - 19
Botanical Bar (London, UK)
10
Fashion Feast including a Fords Gin Pop-Up Bar (London, UK)
10
Sir Colin's Gin Day (London, UK)
10
50% off Gin at The Victoria (Bury, UK)
10
Kilderkin Distillery Open Day (Ballarat, Australia)
10 - 11
WGD at The Bär (Cologne, Germany)
10
"Perfect Gin" menu launch at The Blue Bell (Warrington, UK)
10
Snug Gin Fest (Leigh on Sea, UK)
10
JJ WHITLEY GARDEN (Liverpool, UK)
10
Gin Party at Bar Noord (Antwerp, Belgium)
10
GIN GIN GIN at Reload Bar (Tonga
10
World Gin Day at the Dandy 2017 (Nottingham, UK)
10 - 12
World Gin Day & Long Weekend at THE CELLAR DOOR RINGWOOD (Victoria, Australia)
10 - 11
Queen Street Party - Gin Lane // Beer Street (Bath, UK)
10
Gin tasting event (Bishops Frome, UK)
10
World Gin Day at Benares (London, UK)
10
World Gin Day drink offers at Waxy O'Connor's (Manchester, UK)
10 - 11
World Gin Day at Tippler (London, UK)
10
G & T for a fiver at Harrison's Wine Bar (London, UK)
10
Gin O'Clock at St Mawes Hotel (St Mawes, UK)
10 - 11
Gin Palace WGD 2017 (Melbourne, Australia)
10
Ginstock 2017 (London, UK)
10
Rivington Greenwich (London, UK)
10
World Gin Day at the Market (Adelaide, Australia)
10
Ginchester Fete (Winchester, UK)
10
Biota Dining 5 Course Gin Lunch (Bowral, Australia)
10
World Gin Day at The Four Thieves (London, UK)
10 - 11
Deconstructed Applewood Gin Flight (Canberra, Australia)
10 - 11
CELEBRATE WORLD GIN DAY AT BATTERSEA POWER STATION WITH DODD'S GIN
10
Gin Bar-on-a-bike (Cambridge, UK)
10
Gin & Tonic Long Lunch (Melbourne, Australia)
10
World Gin Day at Sphere (Lancaster, UK)
10
The Gin Fest (Dundee, UK)
10 - 11
Nederlands Jeneverfestival Schiedam (Schiedam, Netherlands)
10
Herno of Sweden World Champions of Gin Tasting (Leeds, UK)
10
World Gin Day Ft. Adelaide Hills Distillery (Adelaide, Australia)
10
Manly Spirits & Gin Lane Tour & Tasting
10
Beefeater House Party to Celebrate World Gin Day (London, UK)
10
World Gin Day Brazil (Sao Paulo, Brazil)
10
Gin Journey Notting Hill LAUNCH! (London, UK)
10
World Gin Day at Cush Bar (Sofia, Bulgaria)
10
Adventurous Stills' World Gin Day Celebration (Tempe, USA)
10
All things Gin at St. LuJa (St Kilda, Australia)
10
World Gin Day Festival (Odense, Denmark)
10
Visit Maiden Distillery (Maidstone, UK)
10
World Gin Day @ De Foodhallen (Amsterdam, Netherlands)
10
Crossley Club LOVES Gin (Lightwater, UK)
10
Nordic Gin Cocktail Class (Melbourne, Australia)
10
Home Is Where The Gin Is (Kingston Beach, Australia)
10 - 11
Gin Tasting and Special WGD treat at ZANZIBAR (Dunedin, New Zealand)
10 - 11
World Gin Day Budapest - Hableány (Budapest, Hungary)
10
World Gin Day @ Leura Cellars (Leura, Australia)
10 - 11
Special Menu at The Pour House (Shrewsbury, UK)
10
2 FOR 1 GIN COCKTAILS AT LOCH FYNE (Bristol, UK)
10
2 for 1 Gin Cocktails at Loch Fyne (Ascot, UK)
10
99 Gins (Gräfelfing, Germany)
10
WGD Happy Hour @ Camel Rock Brewery (Wallaga Lake, Australia)
10
2 for 1 Gin Cocktails at Loch Fyne (Cambridge, UK)
10
The Golden Fleece Gin Festival (Oakworth, UK)
10
2 for 1 Gin Cocktails at Loch Fyne (Chelmsford, UK)
10
2 FOR 1 GIN COCKTAILS AT LOCH FYNE (Dartford, UK)
10
Oslo Ginfestival (Oslo, Norway)
10
MGC Takeover of Mountain Goat Beer (Melbourne, Australia)
10 - 11
World Gin Day at Super Lyan (London, UK)
10
Mermaids Welcome (Leatherhead, UK)
10 - 11
ShortCross Gin Takeover at The Bloomsbury Club Bar (London, UK)
10
One Day, Three Distillers, One Gin (Collingwood, Australia)
10
World Gin Day Tasting @ Voodoo (Wrexham, UK)
10
The Residence Mauritius Celebrates Gin (Belle Mare, Mauritius)
10
Australian Gin Experience (Byron Bay, Australia)
10
Gin Lovers Afternoon Tea Bus Tour of London with Hayman's Gin and B Bakery (London, UK)
10 - 11
The GinYard (Colchester, UK)
10
World Gin Day at Gillray's (London, UK)
10
The Gin Hop (Colombo, Sri Lanka)
10 - 12
Gins on offer at Bar Cacoi (Tokyo, Japan)
10
Mother's Ruin: A cabaret about Gin (Sydney, Australia)
10
World Gin Day at The Dunkirk (Denby Dale, UK)
10 - 11
Gin's of the World Garden Party (Adelaide, Australia)
10
Gin Tasting at the Harbour club (Blakley, UK)
10
World Gin Day at The Vine (Dundee, UK)
10
Canberra World Gin Day Dinner (Canberra, Australia)
10
Muse 4 Course Gin Dinner (Canberra, Australia)
10
Gin Degustation (Melbourne, Australia)
10
Gin dinner! (Davos, Switzerland)
10
A Variety of Gins at Captain Baxter (St Kilda, Australia)
10
Pasaulinė Džino Diena - World Gin Day (Vilnius, Lithuania)
10 - 11
World Gin Day @The Gin Joint (Athens, Greece)
10
Gin & Jazz (Pretoria, South Africa)
10
World Gin Day at Nexus Arts (Adelaide, Australia)
10 - 12
Become a Botanist at Room Lounge (Qingdao, China)
10
World Gin Day at The National Space Centre (Leicester, UK)
10
Gin degustation dinner (Melbourne, Australia)
10
World Gin Day at Tipico Tapas (Phnom Penh, Cambodia)
10 - 11
Speakeasy Swing n Tonic (Cairns, Australia)
10
Burleighs Gin Present 'Party in the Piazza' (Leicester, UK)
10
Gin Tasting at Halseys Deli & Eatery (Hitchin, UK)
10 - 11
World Gin Day (Basel, Switzerland)
10
World Gin Day Ph 2017 (Balanga City, Philippines)
10
Gin and Tonic Specials at the Revival Social Club (Chicago, USA)
10
Gin Menu Launch at The King's Arms (Portesham, UK)
10 - 11
World Gin Day at Kapitel 21 (Berlin, Germany)
10 - 11
Gin & Swing (Derby, UK)
10 - 11
Make your own Gin and Tonic at Pisco Bar (Kuala Lumpur, Malaysia)
11
London 'Gin Festival' at Avenue House (London, UK)
11
Pocketful of Stones Gin Evening (Newquay, UK)