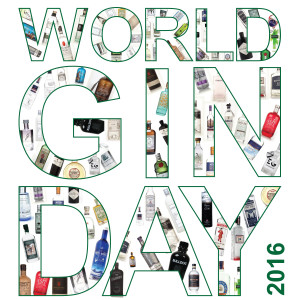 The concept is simple: get people enjoying gin together all over the world.
A day for everyone and anyone (over drinking age of course…!) to celebrate and enjoy gin! Whether you're already a fan of the juniper spirit, or looking for an intro, World Gin Day is the perfect opportunity to get involved.
When?
World Gin Day is always the second Saturday in June. This means the date moves around a little year on year (see date list below), but to make the most of the day we like to give you the Sunday to recover….
Who's behind World Gin Day?
Founded by Neil Houston, aka YetAnotherGin in 2009, what started off as a day to bring his friends together to drink gin has grown into a global celebration!
In 2013 Emma Stokes, aka Gin Monkey took over (that's me!) and I've been at the helm ever since, driving the day forwards and spreading the gin love far and wide. Check out the stats for 2014 and 2015 to see how things have been going…not too shabby I'm sure you'll agree.
Australian ambassador for 2016
As things have been growing at an exponential pace, in 2016 I took the opportunity to invite a dear friend to help out by becoming a World Gin Ambassador for Australia. The first Ambassador on board, Caroline is a veritable library of gin knowledge who launched her website – The Gin Queen – in December 2013, as she wanted to share her enthusiasm for gin and the people who make it. She regularly holds sell-out gin tasting events and has hosted exclusive consumer events with Sipsmith Gin, as well as masterclasses with Laneway Learning and Humble Tumbler. She is a well-regarded industry figure, having made the Top 100 Most Influential List as compiled by Australian Bartender Magazine in 2015. I'm delighted to have her on board, driving things forwards with our friends over in Oz!
Want to get involved?:
Brands: Get in touch to discuss ideas and opportunities, run a competition with me, or let me know about your event.
Bars: Drop me an email to let you know what you're up to and discuss other opportunities.
Everyone else: Check the website, find an event near you and get ginning!
History:
2017: 10 June 2017
2016: 11 June 2016
2015: 13 June 2015
2014: 14 June 2014
2013: 15 June 2013
2012: 9 June 2012
2011: 11 June 2011
2010: 12 June 2010
2009: 13 June 2009